CONTACT: DEANNA JAMES, EXECUTIVE DIRECTOR
(TEL) 340.773.9898, (EMAIL) DJAMES@STXFOUNDATION.ORG
FOR IMMEDIATE RELEASE
JUNE 28, 2018
St. Croix, USVI– St. Croix Foundation for Community Development announces the receipt of a recent gift of $25,000 to the Foundation's hurricane recovery CARE Fund from Assured Guaranty. The generous donation was presented to St. Croix Foundation Board Chair, Willard John and Board Member Shomari Moorehead at the Foundation's SMS Office by representatives of Assured Guaranty on Tuesday, June 19.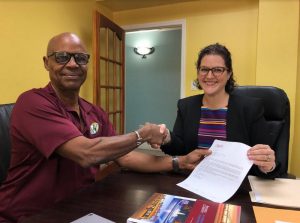 In recognition of St. Croix Foundation's comprehensive hurricane recovery efforts, the award will support the Foundation's CARE FUND, which has provided over half of a million dollars in financial support to numerous nonprofits on St. Croix.
As a 27-year-old place-based community foundation serving the Virgin Islands, St. Croix Foundation is committed to equity, resilience, and collaboration. St. Croix Foundation Executive Director, Deanna James, stated that "Contributions to our CARE Fund have special meaning to the Foundation because they affirm our unique brand of active philanthropy. Historically, conventional philanthropy's response to disasters has been strictly financial. This type of unrestricted support to the CARE Fund allows the Foundation to continue advancing our comprehensive recovery agenda, which entails in depth data collection, nonprofit grantmaking, national philanthropic alliance-building and sustainable rebuilding. Assured Guaranty's support inspires us even further."
Through the CARE Fund, the Foundation has also provided grants to St. Croix's vitally important nonprofit sector, which is filling some of the most critical service voids. Grants have been awarded from the Fund for 1) community-based programs that target the most vulnerable residents; 2) operational capacity in order to nurture greater self-sufficiency and resiliency; and 3) collaborative ventures that will diversify and ground the Virgin Islands' economy in community.
According to Dominic Frederico, CEO and President of Assured Guaranty, "We are pleased to have selected the St. Croix Foundation for Community Development and the Community Foundation of the Virgin Islands to partner with on USVI hurricane relief-related efforts. The relief work they are doing is important in helping the islands recover and thrive. The positive work, integrity and commitment that the people and the government of the U.S. Virgin Islands have been showing during the rebuilding process is encouraging for the long-term future of the islands."
The Foundation would like to extend its deepest appreciation to Assured Guaranty for their generous gift – and all the community partners locally and nationally that continue to support rebuilding. For more information on the St. Croix Foundation's CARE Fund, please contact the Foundation at 340-773-9898.
About Assured Guaranty
Assured Guaranty helps provide funding for public projects such as the construction of roads, bridges, hospitals and schools in cities and communities across the United States and its territories with the goal of helping municipal governments access funding for essential public projects at affordable interest rates. We have insured public financings of the U.S. Virgin Islands since 1997, helping to raise more than $500 million to fund electric power, water supply and other essential public infrastructure. Assured Guaranty Ltd. is a publicly traded (NYSE: AGO) Bermuda-based holding company. Its operating subsidiaries provide credit enhancement products to the U.S. and international public finance, infrastructure and structured finance markets. More information on Assured Guaranty Ltd. and its subsidiaries can be found at AssuredGuaranty.com