The Alexander Theater: Approved for Renovation & Retrofit!
The Alexander Theater is an anchor property located in Sunday Market Square, one of the oldest planned public squares in the United States. The Square was a designated gathering space where enslaved people could not only trade goods but could also connect with loved ones and socialize on Sundays. It remained a popular meeting place through the 1900s.
Built in 1954 by Joseph Alexander (a Lebanese developer) , the Alexander Theater was the manifestation of Joseph's vision to create a cinema in the Square that would help sustain its cultural and economic significance into the 20th Century. The Alexander Theater has remained a key element of the Foundation's downtown revitalization vision since 1998 when we first became court-appointed receivers of several properties in Sunday Market Square. Once a thriving movie theater and a center of economic activity, the theater has stood in disrepair for over two decades.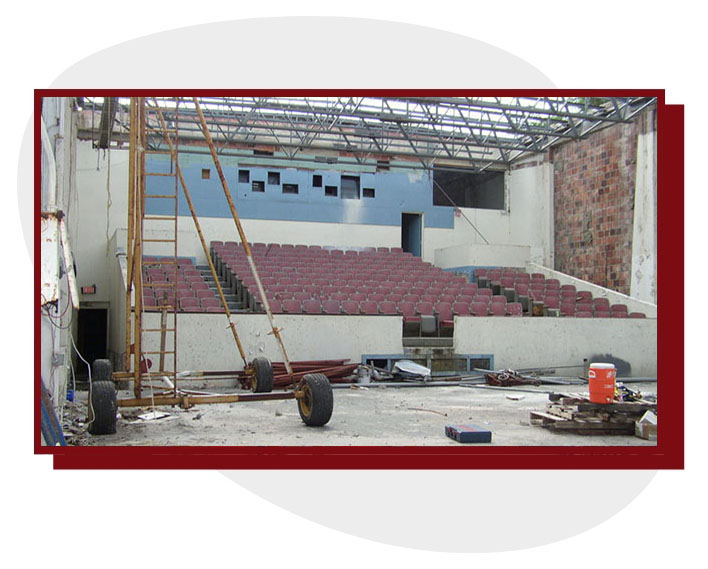 In 2019, the Foundation was awarded a FEMA Hazard Mitigation Grant to partially fund the renovation and retrofit of the Alexander Theater, transforming it into a state-of-the-art performing arts center, convening space, and the only downtown Christiansted Community Disaster Safe Room. The facility will safely shelter more than 300 people during times of disaster. The project is currently in the design phase. A perfect example of the Foundation's holistic approach to community development, this project leverages scarce dollars for ripple impacts. The redeveloped Alexander Theater will add to the territory's depleted disaster safe room pool, serve as an economic stimulus for Christiansted, and nurture the arts.
The Foundation wishes to extend its sincere gratitude to the community partners who have been an integral part of this project over many years and to VITEMA and FEMA for sharing our vision. Like all of our work, this project will take a village. With your help, the new Alexander Theater will serve as a radical model of community resilience and holistic community development.
For more information please contact Haley Cutler at hcutler@stxfoundation.org or call the St. Croix Foundation's office at 340.773.9898.