Community Resilience
On the Front Lines of Crises and Solutions
In the fall of 2017, the U.S. Virgin Islands, Puerto Rico, and the Florida Keys were devastated by an unprecedented series of natural disasters in the form of back-to-back category 5 Hurricanes Irma and Maria. St. Croix Foundation's philanthropic approach has been unwavering: respond (versus react).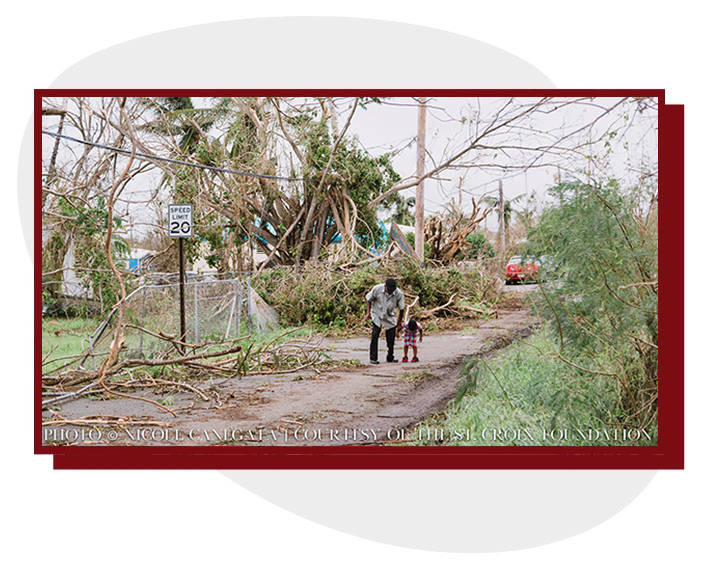 The Caribbean Assistance Recovery Effort (CARE) Fund:
In the immediate aftermath of the storms, SCF launched our CARE Fund to provide direct support to front-line relief efforts and holistic long-term recovery. Within the first three months after the hurricanes, we also conducted the Survey on the Status of Households Impacted by Hurricanes Irma and Maria on St. Croix and Nonprofit Disaster Recovery and Capacity Assessment as part of our commitment to making data-informed investments and ensuring an equitable recovery.
Through CARE we have raised and invested over $1.9 million to support strategic, high-impact investments in the Virgin Islands for hurricane preparedness, resilience, and recovery. And today, the CARE Fund is a permanent Fund of St. Croix Foundation, providing a vehicle to support a targeted response to COVID-19 and any other disaster we may face. The Fund will continue to serve and support the Virgin Islands Community through future disasters and crises.
To support the CARE Fund… give today!
Our Community Resilience Portfolio
We are grateful for the collaboration of St. Croix Foundation in the solarization of the Flambouyant Gardens senior community center. Having solar means we can provide reliable power for low-income seniors during power outages — helping them keep communication lines open, store their medication safely and maintain access to information.
~ Lutheran Social Services, Junia John- Straker