In the fall of 2017, the US Virgin Islands, Puerto Rico, and the Florida Keys were devastated by two back-to-back Category 5 Hurricanes, Irma and Maria. In response, St. Croix Foundation launched the CARE (Caribbean Assistance and Relief Effort) Fund to provide direct support to front-line relief efforts and holistic, long-term recovery strategies.
In the years since the storms, gifts to the CARE Fund have had a direct impact and are supporting our community's ongoing recovery through small business development, innovative and strategic grantmaking, workforce development, fiscal sponsorship, and food security. As a result, we have developed a comprehensive civic-centric network that can be leveraged for preparedness and response to future natural disasters. We have concurrently built a broad civic-centric network consisting of local nonprofits, and national philanthropic partners, which we are leveraging several times over for greater preparedness and resilience in the face of future natural disasters.
To join us in our efforts, please send your gift today
Below is a snapshot of our approach to disaster philanthropy and an overview of some of our successful, high-impact Hurricane Resilience investments.
Our Impact at a Glance
Coordination and Direct Support of Front-Line Relief Efforts
Within a week of Hurricane Maria, SCF activated a coordinated pipeline for the local distribution of relief aid thus ensuring that neighborhoods hardest hit and least accessible were served. Through collaboration designed to maximize the impact of limited resources, the Foundation's front-line relief efforts focused on assessing and meeting critical, sometimes lifesaving needs. These included: facilitating and/or sponsoring the shipment and distribution of approximately 250,000 pounds of food, water, clothing, baby supplies, and medical supplies; distributing 17 electric generators to families, the elderly and those who had medical needs and were living without power more than 90 days; and providing office space, free of charge, to nonprofit organizations displaced by Hurricane Maria.
Data Collection on Unmet Needs for Strategic Recovery
Croix is pleased to announce the official release of our summary reports on our Survey on the Status of Households Impacted by Hurricanes Irma and Maria on St. Croix and the Nonprofit Disaster Recovery and Capacity Assessment. In the first 100 days after the storms, preliminary findings allowed us to provide 353 referrals for 273 individuals, resulting in eligible residents becoming registered for public assistance. Additionally, the information we gained allowed us to work closely with DEMA (Danish Emergency Management Agency), FEMA, corporate citizens, governmental agencies, and countless sister nonprofits. Today, these reports continue to inform St. Croix Foundation's future strategic plans for hurricane recovery. To read the press release, please click here.
Direct Resources for Local Nonprofit Organizations
In total, the Foundation granted $1.2 million to over 40 St. Croix based nonprofit organizations and charitable initiatives that offer programs and direct services, and which target the most vulnerable and underserved populations affected by Hurricanes Irma and Maria. Grants were awarded for reconstruction, vital programming, and capacity building. The Foundation is also overlapping our grantmaking with direct programming, leveraging grants of complete solar systems to community centers on St. Croix and awarding durable steel containers to farmers to harden the infrastructure of a vital food system for an isolated Territory. To further assist nonprofits, after approximately 400 staff hours of coordination and development of our application, the Foundation was approved for a 15-member VISTA Team to come to St. Croix. All the Foundation's VISTAs will assist organizations in developing collateral, conducting outreach, and building internal organizational capacity. In total, this project is expected to impact 8 organizations and over 300 children and families. And through our Nonprofit Consortium, the Foundation is connecting our local nonprofits with each other and resources around the globe. To learn more about the Nonprofit Consortium, click here.
Resiliency and Preparedness Planning
Working with private and public sector partners to develop and institute comprehensive resiliency strategies for St. Croix and the Territory, the Foundation is developing programs and processes that can be activated during times of emergency and disaster. From our Community Center Solar Workforce Development Initiative and Farm Tienda Project to our Healing Humanities Theater Renovation and Retrofit, the Foundation is building new systems that are grounded in long-term safety and security.
Community Recovery Plan
The St. Croix Community Recovery Plan is a tool intended to guide the St.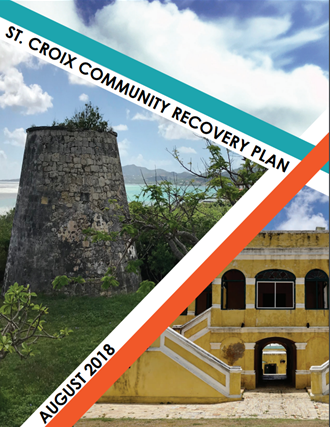 Croix community through necessary steps in the long-term recovery process following Hurricanes Irma and Maria.
The intention of this plan is for use as a blueprint to assist community leaders in implementing recovery projects identified as priorities. The St. Croix community, its leaders, partner organizations and project stakeholders are the primary audience for this plan; hence, this is a community-driven document that contains significant input from local leaders, as well as the general public.
This document is designed to be flexible, based on ever-changing needs of the community; over the course of time, community priorities and goals may be modified or evolve. Therefore, projects chosen for implementation may change. The plan contains project-based recommendations and outlines potential paths forward in the community recovery process.
Similar plans are also available for St. Thomas and St. John.
Forgotten Lands Art Collective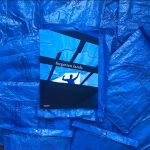 In an effort to raise funds and draw attention to the crisis still at hand, Forgotten Lands, features the works from a range of emerging and established Caribbean artists. This diverse group of artists reflects the environmental, political and socio-cultural diversity present across the regions. All proceeds goes to the Caribbean Assistance and Relief Efforts (CARE)  Fund. Click here to purchase this book and  learn more about the Forgotten Lands Art Collective.